Meet. Communicate. Collaborate & Interact Online Anytime Anywhere.

A Multitude Of Different Customer-Driven Applications
Enhancing Convenience & Efficiency For Co-op@ CUHK

A Placement Portal Now Featuring True End-To-End Online Recruitment Workflow
Like many online recruitment portals, the Co-op@ CUHK portal used to essentially be an online job board for internships.  There's the job filtering mechanisms and online application workflows, but thereafter, the tedious and error-prone processes are left for manual coordination:  keeping track of application processing "status", coordinating interviews schedules, manipulating video conference software, synchronizing post-interview remarks between stakeholders for offer decisions….  
It was therefore no surprise that Digital Expo's JobCentre™, our flagship automation that powered many university's virtual career fairs, was chosen for added convenience and efficiency to the Program's Online Placement Portal.   In addition to the requisite CV preparation, vacancy search and online job application functionalities, JobCentre™ automated the next steps of the recruitment process:  real-time review of individual placement's progress, automated scheduling of interviews with built-in video chat software, pre-start reminders with embedded meeting "join" links, post-session video record download and offer results' update.  The end-to-end recruitment process streamlined + consolidated on one private-cloud platform.
"EduCanada Fair In Hong Kong 2022"

Scheduled MeetNow™ Online Sessions For 1-On-1 B2B Partnering Discussions
How to take "nice-to-know-you" encounters at events to result in successful partnerships?  Prompt follow-ups, of course! Perhaps that's why The Consulate General of Canada in Hong Kong & Macao chose to provide MeetNow™, our scheduled online meeting function to make it easy for these engagements after their EduCanada Fair 2022 closed.  Linked to the event's website, local education consultants simply had to browse for interested colleges, choose a time slot from the selection each school provided, enter a few details, then click "Submit".  MeetNow's automated scheduler workflow took care of the rest, right down to sending reminder emails with an embedded access link.  Reschedule?  No need to cancel and create from new. Our workflow allows editing in the changes. 
Over a 2-day period, we made online engagements "1-Click-Easy" for over 250 partnering sessions.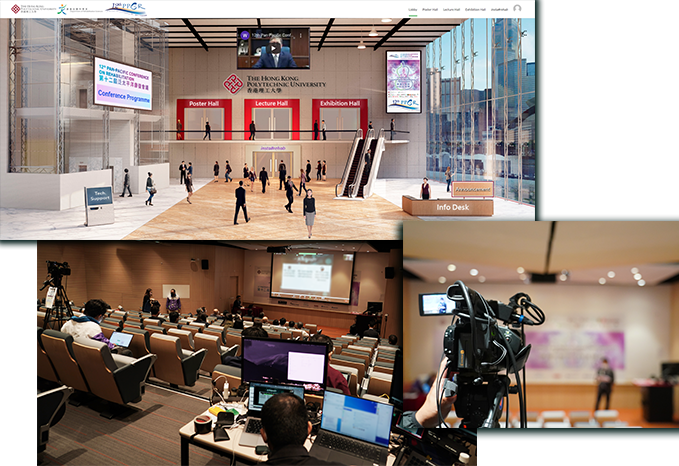 12th Pan-Pacific Conference On Rehabilitation - Hybrid International Scientific Conference Hosted On UC.NOW Digital Expo
A bi-annual event of The Hong Kong Polytechnic University's Department Of Rehabilitation Sciences, this 2021 edition was hosted as a hybrid event, consisting of a virtual exhibition hall, a virtual poster presentation hall for abstract submissions, and a 2-day hybrid conference of 3 concurrent streams & 136 distinct presentations in total. Our Digital Expo virtual platform hosted these virtual elements, and understanding that successful hybrid events need much more that software, the organizers also took advantage of our comprehensive professional services, from project management, event-tech planning, equipment set up, connectivity testing, AV fine tuning, individual speaker rehearsals, to on-site live broadcast & technical support. Our total solution ensured a smooth, interactive experience for the 300+ registered attendees, regardless of whether they participated in-person in one of 3 on-campus lecture halls, or via paid-access-controlled remote login to the event portal.
Digital Expo's New InfoHub™ Online Community & Webinar Portal Template Powered Communication Association Of Hong Kong's Digital Transformation (DT) Forum
Hong Kong's leading ICT professional society, Communication Association Of Hong Kong (CAHK) launched their DT Forum in August 2021, an online community & webinar portal solution dedicated to knowledge sharing and expertise exchange. Built using our latest Digital Expo platform template, it features:
Registration Centre: Easy Browse & Enrol to upcoming events
Webinar+ Rooms: Gamified & Sponsor-Ready
Knowledge Space: Centralizes past webinar recordings & other DT content for controlled access
Social Feed & Online Communities: Stimulate talk and interactions between tech vendors, network operators, SAR government and enterprises
The University Of Hong Kong (HKU) Installed On-Premise Digital Expo™ Platform Dedicated To Online Recruitment, Virtual Info Days & Other Career Planning Activities
For more flexible scheduling and event format, HKU's Centre Of Development and Resources for Students (CEDARS) opted for an on-premise version of Digital Expo's Virtual Career Fair platform.  Branded the Virtual Career Fair & Recruitment Networking System, it has all our flagship features including MeetNow™ for online engagement and JobCentre™ for online recruitment.  It also includes enhanced administrative automation to let CEDARS staff focus on curating exciting programs, instead of being bogged down by manual work when managing numerous & overlapping events. 
Event Control: For event creation, scheduling, management and publishing
Registration Centre: For invitation management, RSVP automation, batch account creation and pre-event reminders
Display Management: Simplify portal display changes for different events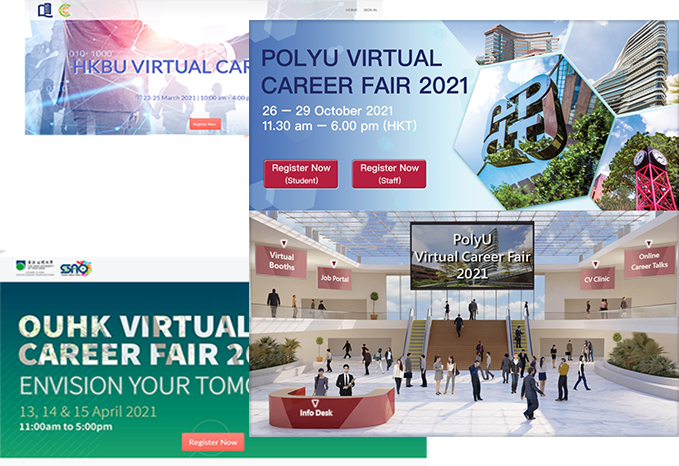 UC. NOW Digital Expo Uniquely Features JobCentre™ For University Virtual Career Fairs
Hong Kong Baptist University, The Hong Kong Polytechnic University and Hong Kong Metropolitan University all opted for UC.NOW Digital Expo's pre-built virtual event template and private cloud hosting for their 2021 virtual career fairs. Our virtual event platform uniquely features JobCentre™, a workflow driven automation designed specially for virtual talent matching and candidate engagement directly on the Virtual Career Fair Platform.
For Job Seekers, JobCentre™ provided comprehensive filters to quickly sieve through available vacancies during the virtual career fairs and apply online.
For Employers, in addition to reviewing inbound applications, JobCentre™ also enabled automated scheduling of online interviews to take place on the virtual career fair platform during the event.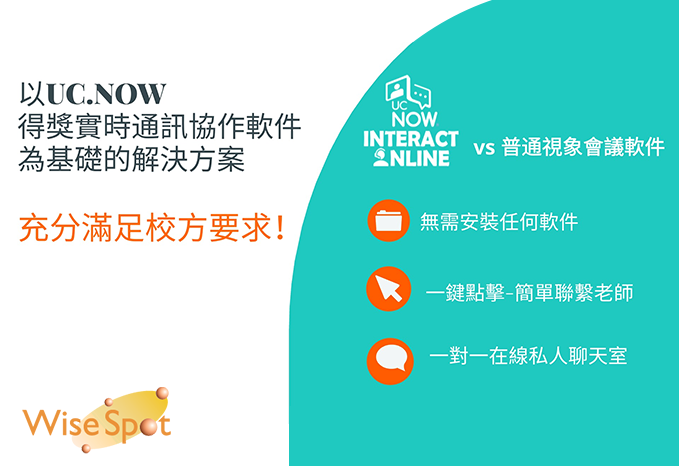 A significant number of physical events were cancelled due to the pandemic and the impact was seen across industries, the education sector included. Institutions resorted to virtual event software, including  virtual info day solutions. In November 2020, 35 secondary schools in the Tuen Mun District banded together to host a virtual info day event for prospective parents to meet and talk online to the schools' faculty face-to-face. With a limited budget and IT resources, their virtual info day solution of choice was UC.NOW Interact Online. On a web page displaying all participating schools, each school had its own secure and private 1-to-1 video meeting room. With the help of our virtual info day solution, parents and school representatives freely discussed topics including admission requirements, learning atmosphere, teachers' qualifications, and schools' facilities.